| | |
| --- | --- |
| By JC Baumuller/NJS.com Staff Writer | October 10, 2020 |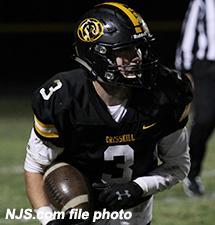 Quarter Kyle Henderson piloted Cresskill to its first win of the season, a 41-6, victory over Secaucus on Friday night.
CRESSKILL -- Senior running back Jeremy Connelly rushed for 163 yards and a touchdown as Cresskill socked it to Secaucus, 41-6 Friday night, and evened its record at 1-1 on the season.
"After a tough loss [at Hasbrouck Heights in the season opener] I think our line really blocked great," Connelly said. "We really wanted to show we could run this week after last week where we mainly passed."
"I'm proud of our guys," added Cougars coach Kevin Quinn. "After a disappointing loss last week they came back, worked hard in practice and fought hard today for four quarters. I'm proud of the effort."
Secaucus forced the Cougars into a three-and-out a minute into the game. On their first play from scrimmage speedy sophomore running back Aly Marzouk raced around left end and sprinted down the sideline for 63 yards. Cougars senior defensive back John DiTore saved a touchdown by knocking Marzouk out of bounds at the Cougars 19-yard line.
A couple of plays later Marzouk swept left again down to the 1-yard line and junior back John Young took it in from there to give Secaucus a 6-0 lead.
"They drew up a nice play," said Cougars senior linebacker Dan Ferrara. "They had a little outside run. [Jon DiTore] caught him though. They scored on us but all that matters is the final score."
Cresskill took the lead for good on the ensuing possession. Connelly carried the ball on five consecutive plays, gaining 47 yards down to the Patriots 13. Three plays later senior quarterback Kyle Henderson, who comes from a long line of Henderson brothers to quarterback the Cougars, tallied on a 2-yard run to put Cresskill ahead, 7-6.
| | |
| --- | --- |
| | Dan Ferrara and the Cresskill defense gave up a TD on Secaucus' first possession and then zero points the rest of the way. |
Dan Ferrara and the Cresskill defense gave up a TD on Secaucus' first possession and then zero points the rest of the way.
The Cougars defense took over on the next Secaucus possession, highlighted by a blitz by Ferrara, who dropped junior running back Linus Mundo for a 6-yard loss on a second down play.
"When you hear that call," said Ferrara, "you look at the card and you see that number you're excited. You go, 'yes, I'm going!' You're ready to go."
"He's a gamer," Quinn said of Ferrara. "He's a kid that when you ask him to do something he's going to come up. He's been a three-year starter on both sides - he's a heckova football player. He's definitely one of those guys when you call his number his eyes get a little brighter."
Cresskill padded its lead with a 7-play, 58-yard drive. Connelly ran four times for 19 yards and DiTore scampered for 35 yards, following his blockers and weaving through the Patriots defense along the way.
"I think that should be one of our strengths," Quinn said of the blocking. "We have four seniors, two of them are returning starters from last year. One of them (Luis Abreu) is a converted defensive lineman who played a lot of football for us. Joe Hasenstab has really stepped up his game this year. He's a guy who didn't see a lot of snaps last year but now he's playing them all.
"We have a lot of size up front. If we get our body on people and we play with good pad leverage these guys can move some guys. Jeremy took advantage of that tonight. There were a couple of plays where he was getting 5-6 yards before he was touched. We have to play to our strength sometimes. It got to a point in the second and third quarter our strength was just running behind our offensive line."
Henderson scored from the 9-yard line when he picked up a loose ball after a bad center snap, rolled to the left and dove into the end zone as the first quarter came to an end.
Connelly added a special team's touchdown to make it 21-6 midway through the second quarter. On 4th-and-11 from the Secaucus 16-yard line the Cougars burst through the line and made a beeline toward punter Mundo. Connelly used his height and long arms to block the punt and then fell on the loose ball in the end zone.
"We weren't going to go for [a punt block]," Quinn said, "but Dan Ferrara gave me that look like, 'coach, we can get it.' He didn't get it but fortunately Jeremy got it. He got his long arms up there and got the scoop and score. You get a special teams score you're going to win a lot of games."
The Cougar defense held again and the offense took over at the Patriots 29-yard line. After an incomplete pass Connelly plowed through the line and raced 29 yards to make it 28-6.
"The line blocked great today," said Connelly. "It was easy to run - the holes were there. I knew they were going to try to tackle high. So I just had to give them one move and break it outside."
As the second half began the Cougars stepped up with a "bend, don't break" defensive stand.
Patriots senior quarterback Veton Tolaj connected with Mundo for 17 yards. Sophomore running back Kyle Garcia and Mundo each gained five yards to get into Cresskill territory. Then Secaucus turned to Young who pounded the ball down to the Cougars 20 with three straight runs.
"He is a pretty good running back - he ran hard," Ferrara said of Young. "We kept him pretty bottled up for most of the time but he ran hard."
Cougars senior linebacker Jerry Makis pulled Tolaj down for a 3-yard loss with a blitz and two plays later the Patriots turned the ball back to the Cougars.
"We came out and we knew what we wanted to do was to stuff them," Ferrara said. "And that's what we did. It was all out on defense. Nobody stopped, nobody quit. Two nice goal line stands. It helped us. We haven't had a goal line stand this year, including scrimmages, so that meant a lot to us. I'm sure it meant a lot to our coaches too. We needed that."
Cresskill took full advantage of the opportunity and Connelly gained 28 yards on two runs and Henderson raced for a 60-yard touchdown. On the play Henderson rolled right, cut back to the left, sidestepped a tackler and outraced the defense to the end zone.
The Cougars scored one last time early in the fourth quarter, as everything seemed to be going their way. Cresskill had taken possession deep in Patriots territory. Three Henderson to DiTore passes gave them a first down at the 17-yard line. Connelly ran it down to the 1-yard line and on the next play a bad handoff resulted in a fumble but junior running back Sidney Hamburger fell on the loose ball in the end zone and Cresskill led 41-6.
The Cougars effort helped to reduce the disappointment of the 28-14 loss to rival Hasbrouck Heights a week earlier. Cresskill fell behind the Aviators, 14-0, trimmed the lead to 20-14 in the third quarter but Heights scored again midway through the fourth quarter to seal the win. But with this win the Cougars seem to be back on track.
"It was a tough loss last week but that's not who we are," said Connelly. "Today we showed who we are by running the ball."
"We knew we had to do this coming out this week after what happened last week," added Ferrara. "We have to keep rolling, keep doing what we did today."
TO BUY A COLLECTOR'S PRINT OF THIS STORY PLEASE VISIT 4-FeetGrafix.com.